Office of Trade Policy & Analysis

Browse by Subject

Our Offices
Exports from U.S. Metropolitan Areas
The ITA's Metropolitan Export Series contains merchandise trade exports to the world for U.S. Metropolitan Statistical Areas (MSAs).
Available from 2005 through 2018, these data contain:
Merchandise export totals for each MSA;

MSA total merchandise exports to ten regional destinations;

MSA exports as a percent of the state total, where possible;

Merchandise exports to individual countries for the 50 largest MSAs;

Top global export product categories for each MSA;

Top 10 metropolitan area exporters to our top 50 trading partners;

Major metropolitan area exporters by industry; and

County data for major metropolitan area exporters.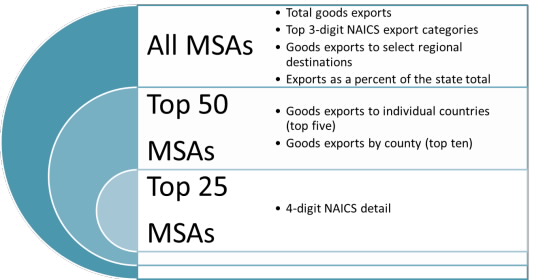 Due to federal disclosure regulations detailed data is not available for all metropolitan areas. Services export values are not included in this series.
Reports & Fact Sheets
Additional Information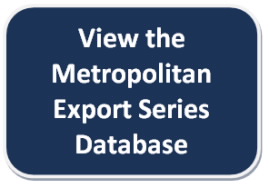 For information on U.S. exports by State please visit ITA's TradeStats Express and ITA's State Reports.
Last Updated: 10/31/19 4:52 PM