Free Trade Agreements

FTAs In Force
Free Trade Agreements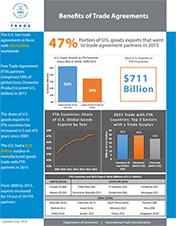 Free Trade Agreements (FTAs) have proved to be one of the best ways to open up foreign markets to U.S. exporters. Trade Agreements reduce barriers to U.S. exports, and protect U.S. interests and enhance the rule of law in the FTA partner country. The reduction of trade barriers and the creation of a more stable and transparent trading and investment environment make it easier and cheaper for U.S. companies to export their products and services to trading partner markets. In 2015, 47 percent of U.S. goods exports went to FTA partner countries. U.S. merchandise exports to the 20 FTA partners with agreements in force totaled $710 billion. The United States also enjoyed a trade surplus in manufactured goods with our FTA partners totaling $12 billion in 2015.
With which countries does the United States have an FTA?
U.S. FTA Partner Countries

The International Trade Administration, U.S. Department of Commerce, manages this global trade site to provide access to ITA information on promoting trade and investment, strengthening the competitiveness of U.S. industry, and ensuring fair trade and compliance with trade laws and agreements. External links to other Internet sites should not be construed as an endorsement of the views or privacy policies contained therein. This site contains PDF documents. A PDF reader is available from Adobe Systems Incorporated.