Office of Trade Policy & Analysis

Browse by Subject

Our Offices
EXPORT TRADING COMPANY ACT (ETCA)
The Export Trade Certificate of Review Program - The Competitive Edge for U.S. Exporters
Success Stories
Trade Development Corporation of Chicago dba China Trade Development
Los Angeles, CA
The seventh Export Trade Certificate of Review holder (and the first focused on markets in Asia) is Trade Development Corporation of Chicago. This export trade intermediary - an American-owned small business with ten professional employees - was founded in Chicago in 1979. The firm received its Export Trade Certificate November 23, 1983, and relocated to Los Angeles in 1985, where it operates under the business name of China Trade Development (China Trade).
Michael R. A. Wade is its founder and Chief Executive Officer. "The Export Trade Certificate of Review has given us the confidence to move forward with our business plan, without fear of legal exposure under U.S. antitrust laws." --Michael R. A. Wade
Commitment, Strategy, and Growth: China Trade began as a consulting firm but soon switched over into serving as an export management company, selling U.S. industrial products directly to Chinese factories. In 1991, China Trade began representing liquid pump and gas booster manufacturer, Haskel International, Inc.
Mr. Wade even purchased stock in the Burbank, California maker of high-pressure products. Over the years, as Haskel has grown with the new acquisitions of Erie, Pennsylvania-based BuTech Pressure Systems and New York's Durameter metering pumps, China Trade has expanded its marketing operations within China.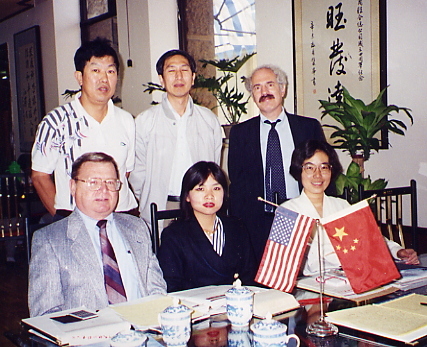 Contract Signing Ceremony
"Our U.S. Department of Commerce Export Trade Certificate of Review covers exclusive agreements with U.S. suppliers, and with buyers and representatives in export markets. This aspect of our Certificate has been of great importance to us when forming business relationships with Chinese authorities." --Michael R. A. Wade
Most gratifying to Mr. Wade and his staffers has been the Export Trade Certificate holder's growing reputation among China's factory purchasing managers as a source for U.S.-made hydraulic motors, gear pumps, flow dividers, and industrial controls. China Trade sources these goods through U.S. factory-authorized distributors.
With almost a quarter-century invested in the China market, China Trade is also called upon by Chinese authorities to assist in infrastructure projects. China Trade recently was selected to co-manage the development of a U.S. $20 million water treatment plant in Hebei Province, east of Beijing.
E-mail Michael Wade at: CHINA-TRADE@worldnet.att.net
Website:www.chinatradedevelopment.com
The Association for Manufacturing Technology (AMT) McLean, VA
Founded in 1902, AMT represents American providers of manufacturing machinery and equipment, with the goal to promote technological advancements and improvements in the design, manufacture and sale of members' products in those markets and act as an industry advocate on trade matters to governments and trade organizations throughout the world.
"From the beginning, (on May 19, 1987) when AMT received the first Certificate of Review issued to a trade association, AMT has seen the Certificate as a valuable means of enhancing the trade competitiveness of our members. As you know, the certificate has allowed our members to combine for overseas bids. In one notable case, our members were able to combine and cooperate to win the contract to supply a large Chinese aircraft plant with the machinery necessary to modernize and win Western aircraft parts contracts. Without the Certificate, such cooperation could never have occurred. It is now 15 years that we have had an Export Trade Certificate of Review, and AMT still values it and would recommend such certification to other trade associations and groups within industries that are interested in expanding export markets in today's highly competitive environment." -- Dr. Paul Freedenberg Government Relations Director, AMT
Florida Citrus Exports, L.C. (FCE) Vero Beach, FL
FCE is the first export joint venture in Florida to receive an Export Trade Certificate of Review (February 23, 1995) from the U.S. Department of Commerce. FCE operates as an export service umbrella for its nine members, including grower-owned cooperatives and packing houses.
"FCE is a good model for other firms that want to cut their export costs and export more effectively." -- Charles Sanders, Esq., Attorney for FCE
FCE's Export Trade Certificate of Review helps its members to export more profitably by enabling them to work together free from export-related U.S. antitrust concerns. Through their Certificate, the FCE members can share transportation and market development costs; engage in joint promotional activities; speak with one voice in negotiations with export service providers and foreign buyers; prepare joint bids; assist each other in maintaining quality standards, and spread risks.
"The Certificate has been a valuable tool. It enables FCE members to negotiate for more favorable transportation costs, and helps them avoid rivalry in the export markets. The coordination of transportation is particularly important in exporting a perishable commodity such as fresh citrus. Due to the need to move the product quickly through distribution channels, market conditions are highly responsive to the timing of shipments."--Charles Sanders, Esq.
AFMA, American Film Export Association (AFEA) Los Angeles, CA
Among the first trade associations to receive an Export Trade Certificate of Review (April 10, 1987), AFMA, Los Angeles, CA (formerly the American Film Marketing Association), has used its antitrust protection to implement several programs tailored to help its members expand export business.
"With the Certificate in hand, we gained the needed flexibility to create meaningful export programs and encourage our members to participate." -- Jean Prewitt, President and CEO of AFMA
Operating with the antitrust protection of its Export Trade Certificate of Review, AFMA offers international model licensing agreements and financing documents that are the standard for the independent film and TV industry; established and administrates the AFMA Arbitration Tribunal, which resolves disputes regarding distribution; produces a membership sales survey to measure the licensing of motion picture and television products in 33 territories; and encourages, through the independently compiled Credit Watch, the sharing of vital credit data on more than 500 film and television buyers from 56 countries.
"The Export Trade Certificate of Review helps AFMA to foster the exchange of information among its exporting members on all aspects of foreign market conditions and customers." -- Lawrence Garrett, Chairman of AFEA
Under the auspices of its Export Trade Certificate of Review, AFMA also offers its members a program that enables AFMA to officially authenticate the origin of a member's product destined for export markets. The program assists AFMA members in eliminating delays in product delivery to overseas distributors.
U.S. Shippers Association (USSA) East Texas, PA
The Export Trade Certificate of Review enables members of USSA (chemical producers) to reduce their overall export transportation costs, including costs related to surface transportation and transportation services. USSA received its Export Trade Certificate on June 3, 1986. The members share export-related transportation information and negotiate as a group for favorable transportation service rates.
"When a new member joins, they are generally uncomfortable in an atmosphere of sharing information and working closely with other companies. After a few months, however, they see the benefits of belonging and trust develops. Trust also develops as members recognize that they are a part of a team and that they are not going to be used by the other members. We still control our own destinies. " --John S. Chinn, President, U.S. Shippers Association
Last Updated: 8/25/15 4:51 PM