MDCP
Click headers to expand:

Results & Highlights

Apply for Project Funding

Cooperator Project Mgt

ITA-MDCP Project Team

Cooperator Financial Mgt

Other MDCP Resources

More Resources
Market Development Cooperator Program
Exports Generated by MDCP Projects
The graphic below shows the share of exports generated by MDCP project activity fiscal 1997-2017 by market. (MDCP project progress other than exports generated is reported in a "Part B" Excel sheet for each project downloadable from the Quarterly Project Progress Reports page.)
The export results below are based on $11.8 billion of total transaction-specific exports. There are another $200 million in exports not-transaction-specific that are not included.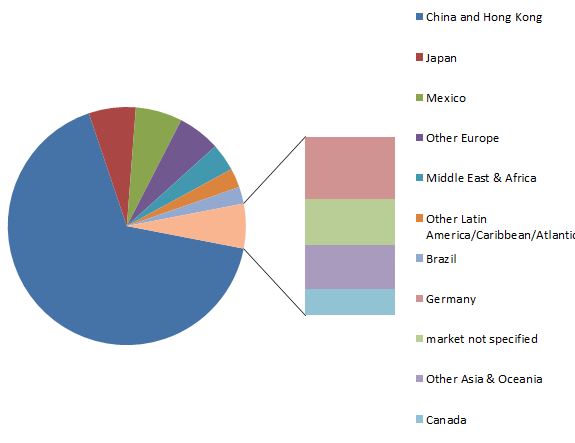 The International Trade Administration, U.S. Department of Commerce, manages this global trade site to provide access to ITA information on promoting trade and investment, strengthening the competitiveness of U.S. industry, and ensuring fair trade and compliance with trade laws and agreements. External links to other Internet sites should not be construed as an endorsement of the views or privacy policies contained therein. This site contains PDF documents. A PDF reader is available from Adobe Systems Incorporated.