MDCP
Click headers to expand:

Results & Highlights

Apply for Project Funding

Cooperator Project Mgt

ITA-MDCP Project Team

Cooperator Financial Mgt

Other MDCP Resources

More Resources
Market Development Cooperator Program
Latin American Firms Find Value in Standardizing Auto Parts Cataloging Data
As part of its MDCP project, Auto Care Association has organized and led a series of technical seminars in Latin America that focused on the processes around standards development and maintenance of standards for the North American automotive aftermarket, ACES (Aftermarket Catalog Exchange Standard) and PIES (Product Information Exchange Standard).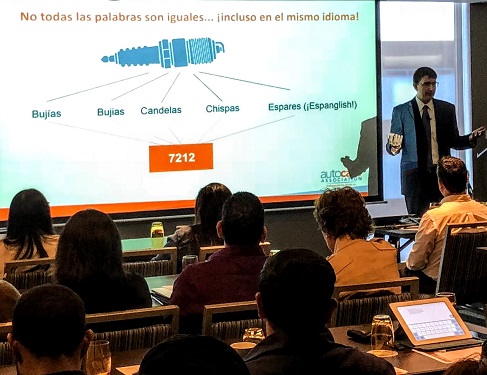 Adopting an industry-wide language to manage and exchange automotive catalog application data is an essential component for U.S. companies to efficiently export products to new markets. It ensures the quality and consistency of catalog data and reduces returns of good parts because the correct part gets sold the first time.
The Auto Care Association's efforts to educate Latin American auto parts manufacturers, distributors and retailers on the value of using the same standard are bearing fruit. Latin American companies are discovering the value and benefits in standardizing automotive parts cataloging data.
"We are very excited to replicate the Auto Care Association's standards in our region in order to enhance the development of our aftermarket product lines," said Ricardo E. Moreno C., aftermarket regional manager, Excel Automotriz, a participant in the 2018 Standards Technical Seminar in El Salvador and Guatemala. "We have the responsibility to the industry to offer a better service to our customers. We look forward and confirm our support in the development of this tool in Central America to bring our industry together." Excel Automotriz has a large aftermarket presence in Central America, with stores and distribution centers in El Salvador, Guatemala, Nicaragua, Honduras and Panama.
"The Auto Care Association will support us in implementing a universal language among suppliers, distributors and customers in the Chilean automotive aftermarket industry," said Hernán Quezada Hörmann, president, Chilean Automotive Spare Parts Association, a participant in the 2017 Standards Technical Seminar in Chile.
More information Auto Care Association's MDCP project.

The International Trade Administration, U.S. Department of Commerce, manages this global trade site to provide access to ITA information on promoting trade and investment, strengthening the competitiveness of U.S. industry, and ensuring fair trade and compliance with trade laws and agreements. External links to other Internet sites should not be construed as an endorsement of the views or privacy policies contained therein. This site contains PDF documents. A PDF reader is available from Adobe Systems Incorporated.