MDCP
Click headers to expand:

Results & Highlights

Apply for Project Funding

Cooperator Project Mgt

ITA-MDCP Project Team

Cooperator Financial Mgt

Other MDCP Resources

More Resources
Market Development Cooperator Program
With CAD Files, U.S. Firms Create Export-Only Products
In 2012, as part of the Specialty Equipment Market Association's (SEMA) 2011 MDCP award, SEMA imported a 2012 Toyota Hilux truck not sold in the United States and made it available to its members to measure for the creation of new products. As part of SEMA's 2014 award, the association expanded its international vehicle measuring program to include using computer-aided design (CAD) equipment to measure vehicles (see photo below) in order for U.S. companies to make products for export. This way, SEMA member companies do not need to personally measure the vehicle directly in order to get data required to design new products. image: SEMA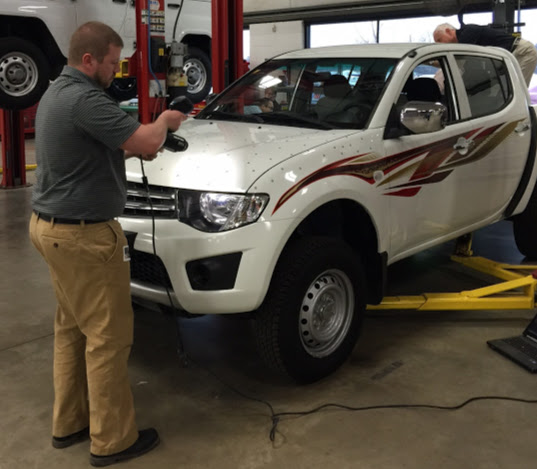 Scan Library
Using the data gathered from the CAD sessions SEMA has created a "Scan Library" of international vehicles not sold in the United States. Many of these CAD files were created by measuring international vehicles that SEMA has temporarily imported at the SEMA Garage, located at its headquarters in Diamond Bar, California. Some files were created by taking measurements of select vehicles during SEMA's international business development conferences, which are held in China and the UAE. SEMA had seven vehicles available for measure in Shanghai and six in Dubai. International vehicles for which SEMA created CAD files for surface area or components are listed below:
'15 BAIC BJ40
'12 Ford Ranger
'14 Ford Ranger
'14 Ford Ranger Wildtrak Diesel
'15 Great Wall H5
'14 Mitsubishi L200
'06 Nissan Patrol
'13 Nissan Patrol
Nissan Patrol Two-Door Diesel
'12 Suzuki Jimny
'14 Toyota HiLux
'05 Toyota Landcruiser
'10 Toyota Landcruiser
'14 VW Scirocco
More information about SEMA's Market Development Cooperator Program (MDCP) project.

The International Trade Administration, U.S. Department of Commerce, manages this global trade site to provide access to ITA information on promoting trade and investment, strengthening the competitiveness of U.S. industry, and ensuring fair trade and compliance with trade laws and agreements. External links to other Internet sites should not be construed as an endorsement of the views or privacy policies contained therein. This site contains PDF documents. A PDF reader is available from Adobe Systems Incorporated.