MDCP
Click headers to expand:

Results & Highlights

Apply for Project Funding

Cooperator Project Mgt

ITA-MDCP Project Team

Cooperator Financial Mgt

Other MDCP Resources

More Resources
Market Development Cooperator Program
Ambassador Lends High Profile to USITO's Continued Market Access Work
Terry Branstad is pictured below, second from left, during the presidential trip to Beijing on November 8, 2017. Later that month, Ambassador Branstad hosted the annual board meeting of the U.S. Information Technology Office (USITO) at the U.S. Embassy in Beijing. A group of U.S. associations representing the information and communication technology (ICT) industry opened USITO as part of an MDCP project in 1994 to help develop a beneficial regulatory and business environment in China. image: U.S. Department of State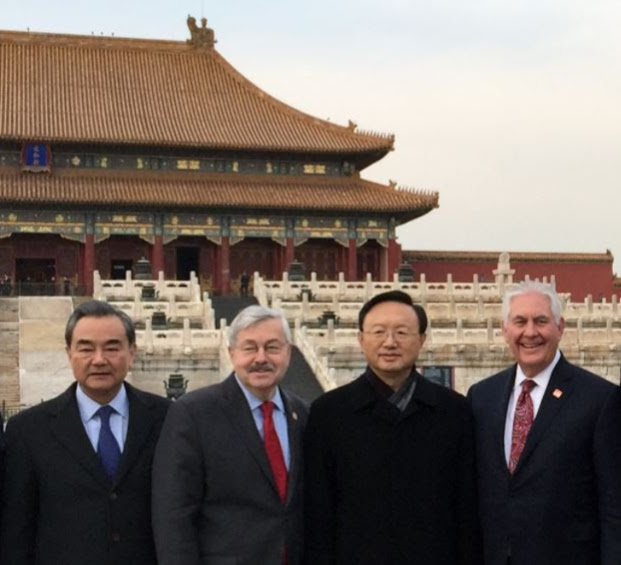 From Ensuring Cybersecurity to Protecting Intellectual Property
The U.S. ICT market is the largest in the world and quite open. ICT products and services from suppliers & providers around the world are evident in the U.S. market. Things are not so free and easy in China. So, USITO engages China government officials regularly and comments on proposed rules and laws that affect the access of U.S. firms to China's ICT market.
USITO has member companies participating in seven different policy committees. An examination of one of these, intellectual property rights (IPR) protection, shows that USITO and its member firms have several issues of great import.
In IPR alone, USITO has been recently engaged with China officials on China's national IPR strategy, revisions to China's copyright law, the establishment of special IP courts, and service invention remuneration.
An MDCP Jump Start, Then Self-Sustainability
As with all MDCP projects ITA's share of the cost never exceeds one third of the total. USITO provided even more than the minimum two thirds. In the first three-plus years of operation, USITO provided 73% of the office set-up and operating cost.
The associations that started USITO stepped up funding to account for 100% of USITO operation costs after ITA's financial support ended in 1998. This substantial investment by the industry continued after 1998 when ITA's MDCP award funds were depleted.
Read more about the USITO MDCP project.
Read selected highlights of MDCP projects addressing trade barriers.

The International Trade Administration, U.S. Department of Commerce, manages this global trade site to provide access to ITA information on promoting trade and investment, strengthening the competitiveness of U.S. industry, and ensuring fair trade and compliance with trade laws and agreements. External links to other Internet sites should not be construed as an endorsement of the views or privacy policies contained therein. This site contains PDF documents. A PDF reader is available from Adobe Systems Incorporated.