MDCP
Click headers to expand:

Results & Highlights

Apply for Project Funding

Cooperator Project Mgt

ITA-MDCP Project Team

Cooperator Financial Mgt

Other MDCP Resources

More Resources
Market Development Cooperator Program
IMTS Puts U.S. Manufacturing Technology On Display
Flanked by AMT President Doug Woods and AMT Chairman and Hardinge Group President/CEO Rick Simons, U.S. Secretary of Commerce Penny Pritzker assists in opening IMTS 2016. The International Manufacturing Technology Show ran from September 12 – 17 at Chicago's McCormick Place. The show attracted a record 2,407 exhibiting companies and 115,612 registered visitors.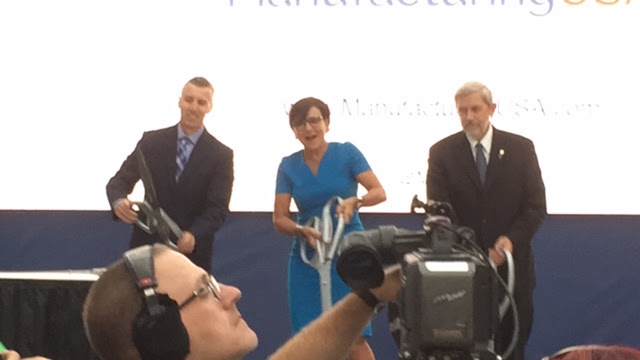 AMT Leverages IMTS to Encourage Engagement in Brazil
IMTS is owned by AMT – The Association For Manufacturing Technology. AMT represents and promotes U.S.-based members who design, build, and sell manufacturing technology. In 2012, AMT received a Market Development Cooperator Program (MDCP) financial award to help U.S. firms to develop relationships in Brazil that will lead to exports.
IMTS is a huge industry event that attracts visitors from around the world. AMT has a long history of helping its members to establish and develop customer relationships in markets outside the United States.
Carlos Mortera, AMT International Director for Latin America, reminded member companies that "Brazil is coming out of a three-year recession with companies focusing on productivity. There are clear indications of a positive industrial GDP once again. This is a great time to engage with well-known companies like Schaeffler, JCI, SEW, Thiessen, JCB, Embraer, GM Brazil and Argentina, Ford Brazil and Argentina, VW Brazil, Metso etc."
More information about AMT's Market Development Cooperator Program (MDCP) project.

The International Trade Administration, U.S. Department of Commerce, manages this global trade site to provide access to ITA information on promoting trade and investment, strengthening the competitiveness of U.S. industry, and ensuring fair trade and compliance with trade laws and agreements. External links to other Internet sites should not be construed as an endorsement of the views or privacy policies contained therein. This site contains PDF documents. A PDF reader is available from Adobe Systems Incorporated.