MDCP
Click headers to expand:

Results & Highlights

Apply for Project Funding

Cooperator Project Mgt

ITA-MDCP Project Team

Cooperator Financial Mgt

Other MDCP Resources

More Resources
Market Development Cooperator Program
U.S. Industry Engages in ISO Process to Ensure Transparent, Science-Based Standards
ITA's Elise Reysbergen, second from left, visits Tim Belstra, owner of Belstra Milling, second from right to see Belstra's feed machinery in action in Indiana. ITA is supporting an MDCP project spearheaded by the American Society of Agricultural and Biological Engineers (ASABE) and the American Feed Industrys Association. AFIA's Gary Huddleston, left, is joined by ASABE's Jean Walsh, center, and Scott Cedarquist, far right. image: Belstra Milling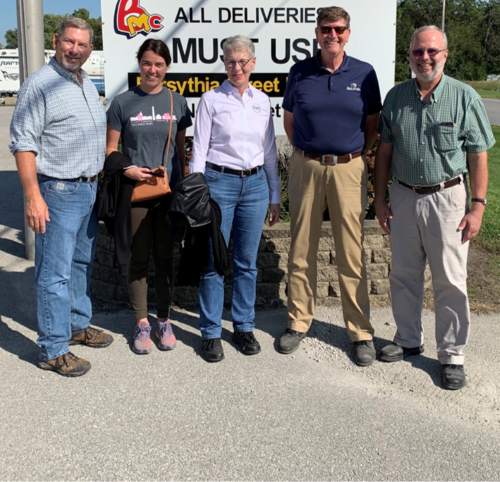 Understanding the Industry and Its Technology
Part of the reason Reysbergen and ASABE and AFIA officials made the trip to the DeMotte, Indiana facility was to better familiarize themselves with Belstra's equipment and process. ASABE and AFIA have been organizing U.S. participation in the International Organization for Standards (ISO) formulation of standards for feed processing equipment which is taken up in Technical Committee 293.
ITA does not represent the United States in the process of the establishment of ISO standards. Nevertheless, seeing feed processing machinery in action helps Reysbergen to understand the context and significance of TC 293 discussions.
Helping U.S. Industry Understand Standards Development Process
Most U.S. companies in the feed processing equipment industry are small- or medium-sized. They generally have no experience in the process of establishing internationally recognized standards. ITA provides and coordinates support for education, training, preparation, coordination, and travel for U.S. feed machinery industry representatives so that they can participate in the process as technical experts.
Belstra also serves as AFIA's chairman. The visit gave AFIA's Gary Huddleston an opportunity to brief Belstra on the status of the TC 293 process and to prepare for upcoming ISO meetings.
Standards Are a Potential Barrier to Trade
When China initiated the TC 293 ISO process, the limited number of other country representatives were mostly subsidiaries of one Chinese company. The process was on course to result in standards based primarily on what benefited China producers instead of what made sense to the industry for technical reasons grounded in science. No one had yet stepped up to lead a U.S. delegation or participate in the ISO process. The cost in travel, standards education, and staff time were more than ASABE and AFIA could handle. In 2016, ASABE competed for and received MDCP technical and financial assistance from ITA with in-kind resources matched by AFIA.
Without AFIA and ASABE leadership, technical expertise from U.S. companies, and support from ITA, the international standards work led by China in ISO had the potential to become a trade barrier for manufacturers from the United States and other countries. Manufacturing and safety specifications, tolerances, and other parameters could have been set up to simply comply with practices in China rather than be based on data and scientific process.
Standards from such a process could have rendered equipment from the United States and other countries non-compliant in countries that adopted the resulting ISO standards. This would have made it more difficult for U.S. firms to export. Hence the importance of getting technical experts from the United States and other countries involved in the standardization process.
Read more about ASABE's MDCP project.
Read selected highlights of MDCP projects addressing trade barriers.

The International Trade Administration, U.S. Department of Commerce, manages this global trade site to provide access to ITA information on promoting trade and investment, strengthening the competitiveness of U.S. industry, and ensuring fair trade and compliance with trade laws and agreements. External links to other Internet sites should not be construed as an endorsement of the views or privacy policies contained therein. This site contains PDF documents. A PDF reader is available from Adobe Systems Incorporated.