MDCP
Click headers to expand:

Results & Highlights

Apply for Project Funding

Cooperator Project Mgt

ITA-MDCP Project Team

Cooperator Financial Mgt

Other MDCP Resources

More Resources
Market Development Cooperator Program
ITA Partners Broker Building Code Accord in Gulf
In November 2016, ICC (International Code Council) signed a new agreement with GCC (Gulf Cooperation Council) Standardization Organization (GSO) in support of GSO's efforts to develop a unified Gulf Building Code (GBC) for the region. The signing ceremony pictured below includes ICC Executive Vice President and Director of Business Development Mark Johnson and GSO Director General Nabil Molla. photo: ASTM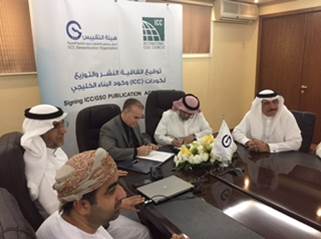 ICC has a longstanding commitment to the Gulf Region and elements of its codes form the basis of construction regulations in a variety of Gulf markets. Relationships furthered and information exchanged under the ASTM International MDCP contribute to the productive collaborative relationship between ICC and GSO.
ICC is a key partner in the ASTM International Standards and Codes for Sustainable Construction (Gulf Region) MDCP project. ICC has devoted technical and policy expertise to the program, along with model code content resources, code development and evolution expertise, and both hands-on and virtual trainings for Gulf participants.
Boosting U.S. Building Product Exports
The I-Codes developed by ICC, reference hundreds of ASTM International standards and other consensus standards. U.S. building product manufacturers are familiar with the I-Codes and their reference standard requirements. When the I-Codes inform a regional Gulf Building Code, it facilitates trade and helps ensure the region can benefit from U.S. manufacturers' building product solutions.
More information about ASTM's Market Development Cooperator Program (MDCP) project.
Read selected highlights of MDCP projects addressing trade barriers.

The International Trade Administration, U.S. Department of Commerce, manages this global trade site to provide access to ITA information on promoting trade and investment, strengthening the competitiveness of U.S. industry, and ensuring fair trade and compliance with trade laws and agreements. External links to other Internet sites should not be construed as an endorsement of the views or privacy policies contained therein. This site contains PDF documents. A PDF reader is available from Adobe Systems Incorporated.