MDCP
Click headers to expand:

Results & Highlights

Apply for Project Funding

Cooperator Project Mgt

ITA-MDCP Project Team

Cooperator Financial Mgt

Other MDCP Resources

More Resources
Market Development Cooperator Program
PROJECT PROFILE: ASTM Internationl (ASTM, 2014 award)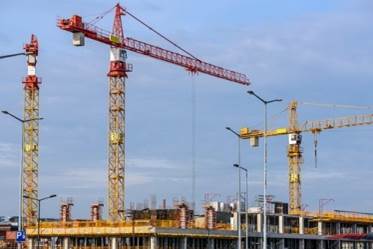 Facilitating Trade: Standards Provide a Common Language
International standards create certainty in trade. When a standard is specified, both buyer and seller know what a conforming product or process will deliver. Building codes address the whole building and include standards for products and processes across multiple construction disciplines.

MDCP Award/ASTM Match: $87,140/$400,235
Contributing Partner: International Code Council (ICC)
Markets Targeted: Saudi Arabia, United Arab Emirates, Qatar, Kuwait, Bahrain, Oman
U.S. Industry Promoted: Construction, Building Products
Period: 2014-2019
Key ITA Collaborators:
Joanne Littlefair, ITA Team Lead, I&A Office of Materials Industries
Renee Hancher, I&A Office of Standards and Investment Policy
James Cramer, Global Markets Office of Middle East & North Africa
Project Description:
Conduct workshops and trainings in the Gulf Region on standards and codes for sustainable construction.
Host Gulf officials delegations to the United States for tecnical and policy training.
Facilitate Gulf stakeholder engagement in standards and codes development activities.
Project Milestone Report (Part B)
Read the MDCP Project Application
In 2014, ITA partnered with ASTM International to showcase international standards and model building codes for sustainable construction, and their development approaches, to Gulf leaders.
Targeted to Regional Requirements
The Gulf Cooperation Council seeks to develop a regional building code and is committed to more sustainable construction. Solutions to Gulf construction challenges exist with U.S.-domiciled organizations. The timing is right for ASTM International and International Code Council to highlight these solutions via the MDCP.
Development of a regional Gulf building code based on codes and international standards from U.S. organizations strengthens the competitiveness of domestic suppliers. U.S. product and service providers are familiar with these requirements and are highly capable of delivering solutions.
The MDCP project has enabled an integrated program for building levels of knowledge and productive, collaborative relationships. This foundation is critical for future success in U.S. exports. Initiatives since October 2014:
Doha, Qatar – Gulf officials workshop on standards and codes for sustainable construction
United States - Gulf officials delegation technical and policy training visit

Multiple hands-on and virtual technical trainings for Gulf participants on the International Green Construction Code (IgCC) model green building code

United States - Gulf delegation engagement in ASTM International Committee Week standard development processes

Dubai, UAE – Gulf officials follow-on workshop on standards and codes for sustainable construction
IT14INA1120002 -- SF case 90696
-------------------------------------------------------
ASTM International is a globally recognized leader in the development and delivery of voluntary consensus standards. Over 12,000 ASTM standards are in use worldwide to improve product quality, enhance health and safety, strengthen market access and trade and build consumer confidence. ASTM is headquartered in West Conshohocken, Pennsylvania.
ASTM contacts: Teresa Cendrowski, Jim Olshefsky
International Code Council (ICC) is a leading U.S. developer of model building codes. ASTM standards are an integral part of ICC's model codes.
---
---
Note: This page contains hyperlinks to information created and maintained by other public and private organizations. External links to other Internet sites should not be construed as an endorsement of the views or privacy policies contained therein.
The International Trade Administration, U.S. Department of Commerce, manages this global trade site to provide access to ITA information on promoting trade and investment, strengthening the competitiveness of U.S. industry, and ensuring fair trade and compliance with trade laws and agreements. External links to other Internet sites should not be construed as an endorsement of the views or privacy policies contained therein. This site contains PDF documents. A PDF reader is available from Adobe Systems Incorporated.