MDCP
Click headers to expand:

Results & Highlights

Apply for Project Funding

Cooperator Project Mgt

ITA-MDCP Project Team

Cooperator Financial Mgt

Other MDCP Resources

More Resources
Market Development Cooperator Program
International Healthcare Opportunities: Call to Arms
An anatomy lab compels the interest of ITA healthcare industry specialist Lisa Huot and Manuela Pujals Lord of Florida-based Broward Health International. Officials of U.S. healthcare providers like Broward toured the lab at the Albert Einstein Medicine School as part of a trade mission to Brazil. The school and other healthcare-focused organizations in Brazil seek closer ties with U.S. medical services providers. image: USCIPP/NCHL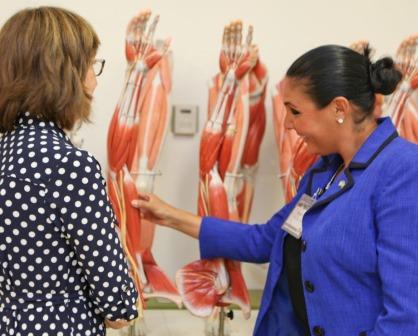 Brazil Mission Builds Relationships for U.S. Healthcare Providers
In late May 2017, several U.S. research hospitals and other healthcare providers spent several days in São Paulo and Rio de Janeiro. The series of events was part of a Market Development Cooperator Program (MDCP) project undertaken by the U.S. Cooperative for International Patient Programs (USCIPP), a membership program of The National Center for Healthcare Leadership (NCHL). Key ITA partners with USCIPP/NCHL for the events included Commercial Service São Paulo, Rio de Janeiro, and Austin, TX; and the Office of Health and Information Technologies.
The road show included stops in São Paulo and Rio de Janeiro. It was timed to coincide with Hospitalar, a four-day healthcare forum in São Paulo. The event brings together nearly 100,000 hospital directors, academics, and healthcare professionals. USCIPP/NCHL worked with ITA to get all the participating hospitals to show-case ChooseUSHealth at a booth in the international pavilion.
Thanks to the mission U.S. healthcare providers met with several different potential partners in Brazil seeking services like telemedicine and second opinions. The USCIPP/NCHL MDCP project is based on establishing partnerships for medical treatments, professional training, and healthcare system planning. Over the long term, these relationships will engender tens of millions of dollars of healthcare services exports annually.
More information about USCIPP/NCHL's MDCP project.

The International Trade Administration, U.S. Department of Commerce, manages this global trade site to provide access to ITA information on promoting trade and investment, strengthening the competitiveness of U.S. industry, and ensuring fair trade and compliance with trade laws and agreements. External links to other Internet sites should not be construed as an endorsement of the views or privacy policies contained therein. This site contains PDF documents. A PDF reader is available from Adobe Systems Incorporated.