MDCP
Click headers to expand:

Results & Highlights

Apply for Project Funding

Cooperator Project Mgt

ITA-MDCP Project Team

Cooperator Financial Mgt

Other MDCP Resources

More Resources
Market Development Cooperator Program
"An All-American Product Finds New Takers"
Then-Indiana Governor Mike Pence and other officials were on hand at a reception on the U.S. Embassy grounds in Beijing in 2015. Four Indiana-built recreation vehicles (RVs), including the one pictured, were positioned at the embassy for China officials and other invitees to inspect. ITA's Commercial Service put on the event at the request of the Recreation Vehicle Industry Association (RVIA). The event was part of ITA's partnership with RVIA through the Market Development Cooperator Program (MDCP) photo: RVIA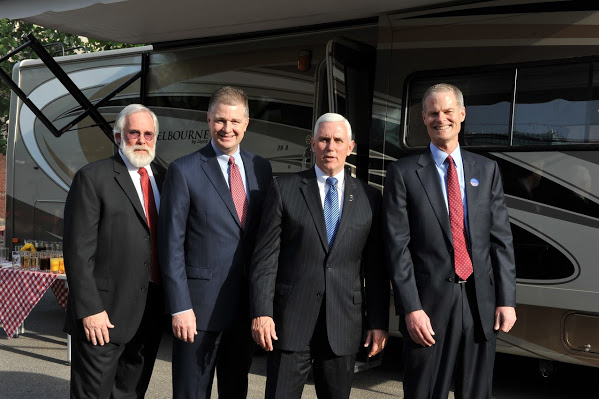 Forty-Fold Increase in China Campgrounds to Spur RV Exports
In 2012, there were fewer than 50 campgrounds in China. Most of these were set up for tent campers only. RVIA saw this as a major obstacle to people in China who would otherwise want to buy an RV and go camping. By the end of 2020, there will be at least 2,000.
China's government had already expressed an interest in creating RV campgrounds to promote domestic tourism. RVIA competed in 2012 for a special MDCP partnership with ITA, proposing a work plan that included outreach to China officials to ensure good campground design and to address associated challenges.
As China's physical and regulatory infrastructure begins to develop to accommodate the use of RVs, U.S. exports will increase. To this end, RVIA has an East Asia representative who, along with other RVIA and U.S. industry officials, engages China officials regularly. By working with China officials early, RVIA has been able to ensure that China's new campgrounds have features like electric, sewer, and water hook-ups that accommodate U.S. RVs.
The Economist acknowledged RVIA's hopes for China in an April 22, 2017, article subtitled "an all-American product finds new takers." The magazine noted that an increasing number of Chinese firms make RVs "but not of the quality that many Chinese want. The country imported 1,000 vehicles last year, over half of them American."
The 2,000 campgrounds that China plans to have open by 2020 sound like a lot but should be seen in context. With roughly equivalent geographic size but less than a third of the population of China, the United States has about 20,000 RV campgrounds. Given this perspective, China's plans to build thousands more campgrounds in succeeding years are at a reasonable scale. As this capacity expands, annual exports of U.S. RVs to China will grow from several millions of dollars-worth annually to several hundreds of millions within a few years. Additional expansion is likely as the capacity and demand in China increase in the decades ahead. This is especially good news for a U.S. industry that was hard hit by the 2008-2009 recession.
After receiving an MDCP award in 2012,
RVIA received another award in 2015
.
Read selected highlights of MDCP projects addressing trade barriers.

The International Trade Administration, U.S. Department of Commerce, manages this global trade site to provide access to ITA information on promoting trade and investment, strengthening the competitiveness of U.S. industry, and ensuring fair trade and compliance with trade laws and agreements. External links to other Internet sites should not be construed as an endorsement of the views or privacy policies contained therein. This site contains PDF documents. A PDF reader is available from Adobe Systems Incorporated.