MDCP
Click headers to expand:

Results & Highlights

Apply for Project Funding

Cooperator Project Mgt

ITA-MDCP Project Team

Cooperator Financial Mgt

Other MDCP Resources

More Resources
Market Development Cooperator Program
PROJECT PROFILE: Recreation Vehicle Industry Association (RVIA, 2015 award)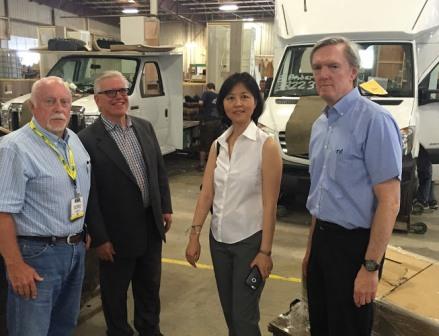 Standards Needed to Satisfy RV Demand in China
In 2015 the China Association of Automotive Manufacturers predicted that by 2020, annual sales of RVs in China would reach 350,000. Thanks in part to RVIA's efforts begun in 2012 and supported by a previous MDCP award, China's Ministry of Transportation is considering loosening restrictions on private automobiles towing trailers on roads and highways. But much remains to be done for RV use to really take off in China.

MDCP Award/RVIA Match: $300,000/1,529,827
Markets Targeted: China, Japan, Korea
U.S. Industry Promoted: Recreation vehicles
Period: 2015-2020
Key ITA Collaborators:
Charlie Rast, ITA Team Lead, I&A/Office of Consumer Goods
Jim Pruitt, GM/China Desk
Mark Cooper, GM/USEAC Indianapolis
Project Description:
Promote campground standards in China compatible with U.S. standards.
Encourage the inclusion of RV definitions in the China motor vehicle code and the removal of regulatory obstacles.
Promote CCC requirements that account for unique RV manufacturing issues.
Support RV tariff & duty reductions.
Promote post-disaster assistance and other uses of RVs.
Project Milestone Report (Part B)
Exports Generated by 2018.12.31: $61,954,100
Exports Per Dollar of Award: $207
Read the MDCP Project Application
Numerous RV campgrounds are now being planned across China. Continued engagement is needed so that these incorporate standards that allow interoperability with standards used by U.S.-built RVs. China's motor vehicle code, CCC manufacturing rules, and other regulations also need to be addressed in order for U.S. firms to be able to compete fairly in the market.
RVIA's agenda for China is directed at both national and provincial levels to advocate the benefits of RVing and camping brings to China's economy, to promote the RV lifestyle and U.S. RV products, and promote U.S. RV and campground standards.
Specialized Uses in Japan
Unlike China, where recreational use will dominate growing demand, Japan is a niche market where the primary growth potential for U.S.-made towable vehicles is for temporary housing after natural disasters.
With help from ITA's Commercial Service at the U.S. Embassy in Tokyo, RVIA held a series of meetings with officials from the Ministry of Land, Infrastructure and Transportation, local government officials and business leaders from the 2011 Great East Japan Earthquake area, and the Japan RV Association. RVIA was successful on a small scale in encouraging the use of U.S. disaster relief and recovery units, and continues working with the Japanese government to include these units on a larger scale in the event of a future natural disaster.
Development of Korea as Export Market
RVIA has visited with the Korean Tourism Organization, the government agency responsible for the country's tourism policies, to educate the officials about RVing and camping. RVIA also attended a camping rally sponsored by the Korean Federation of Camping and Caravanning and gave a presentation to national and provincial government officials. South Korea is a promising market for U.S. RV products with its approximately 2,000 campgrounds.
RVIA also recently held its annual trade show, RVX: The RV Experience, in Salt Lake City, Utah, March 12-14. The show was an International Buyer Program (IBP) Select event, bringing international buyers from China, Korea, and Japan for business-to-business matchmaking. The 2019 event brought together the industry's leading manufacturers, suppliers, retailers, and campgrounds to showcase the latest RV products and celebrate the RV lifestyle.
IT15INA1120003 -- SF case 91125
WINs: 22644, 21503, 22120, 22121
---------------------------------------------------------
The Recreation Vehicle Industry Association (RVIA) is the national trade association representing recreation vehicle manufacturers and their component parts suppliers who together build more than 98 percent of all RVs produced in the U.S. RVIA is headquartered in Reston, Virginia.
RIVA contacts: Craig Kirby, Edward Han
---
---
Note: This page contains hyperlinks to information created and maintained by other public and private organizations. External links to other Internet sites should not be construed as an endorsement of the views or privacy policies contained therein.
The International Trade Administration, U.S. Department of Commerce, manages this global trade site to provide access to ITA information on promoting trade and investment, strengthening the competitiveness of U.S. industry, and ensuring fair trade and compliance with trade laws and agreements. External links to other Internet sites should not be construed as an endorsement of the views or privacy policies contained therein. This site contains PDF documents. A PDF reader is available from Adobe Systems Incorporated.