MDCP
Click headers to expand:

Results & Highlights

Apply for Project Funding

Cooperator Project Mgt

ITA-MDCP Project Team

Cooperator Financial Mgt

Other MDCP Resources

More Resources
Market Development Cooperator Program
U.S. Technology Helps Rescuers to Save Lives
Divers with Amsterdam's search and rescue service prepare for a demonstration of the U.S.-made "emergency integrated lifesaving lanyard" or EMILY, made by Hydronalix. This firm is one of several U.S. companies to participate in back-to-back trade events in the U.K., Netherlands, Germany, and Denmark led by TMA BlueTech, an ITA-Market Development Coopertor Program (MDCP) partner. image: TMA BlueTech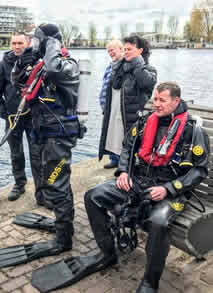 Water Safety, Just One Small Part of the Marine Technology Industry
Light enough to be hand launched from ship or shore, EMILY, not actually pictured above, is a small unmanned watercraft capable of propelling itself through heavy surf to a person in the water. It can deliver life jackets or pull a recovery line and provide flotation until a rescuer arrives. It can also be equipped with scanning sonar and a video camera for search and recovery missions. The Dutch divers pictured above are preparing to use the sonar function.
Interest in water safety is indicative of growing interest in the maritime technology industry generally, including recreation, defense, science and observation. Hydronalix is just one of many firms in the industry. The United States is home to more than 147,000 enterprises that provide products and services for ocean and aquatic applications.
Partnership With ITA Helps Marine Tech Firms Succeed
TMA BlueTech led U.S. firms to Ocean Business, an expo in Southampton, U.K. and immediately thereafter, on a Blue Tech trade mission" to Copenhagen, Hamburg and Rotterdam. The events were part of TMA BlueTech's MDCP partnership with ITA. In addtion to the Ocean Business trade show, the trade mission activities included B2B matchmaking, presentations and multiple networking opportunities and cluster-cluster collaboration.
TMA estimated that the trip would generate at least $2 million in total new exports. TMA collected metrics over the next several months. Nine months after the trip, companies had reported to TMA over $5 million in sales as a result. Comments from other mission participants also confirm the positive expectations.
Mark Gundersen, President & CEO of Marine Advanced Research in northern California, developed new distribution and sales leads, and finalized terms for a lease agreement. He said, "TMA and ITA exceeded my expectations... We had a packed schedule before, at, and after Ocean Business meeting with companies and organizations in our industry. You would be hard pressed to find another way to open as many doors in such a short amount of time."
Durval Tavares, CEO of Aquabotix, which recently closed an over-subscribed initial public offering, said, "The team worked seamlessly as one entity focused on helping business get results."
Immediate Exports of $650 k, $5 m Nine Months Later, and Another $7 m to Come
U.S. firms that participated in the trade mission later reported sales totaling about $650,000 to various European buyers. In the next nine months these firms reported $5 m in exports. They anticipate another $7 m in exports sales in the months ahead.
More information about TMA Blue Tech's MDCP project.

The International Trade Administration, U.S. Department of Commerce, manages this global trade site to provide access to ITA information on promoting trade and investment, strengthening the competitiveness of U.S. industry, and ensuring fair trade and compliance with trade laws and agreements. External links to other Internet sites should not be construed as an endorsement of the views or privacy policies contained therein. This site contains PDF documents. A PDF reader is available from Adobe Systems Incorporated.