MDCP
Click headers to expand:

Results & Highlights

Apply for Project Funding

Cooperator Project Mgt

ITA-MDCP Project Team

Cooperator Financial Mgt

Other MDCP Resources

More Resources
Market Development Cooperator Program
Toy or Tool? Product Classification
Is a small unmanned underwater vehicle (UUV) a toy or a tool? U.S. Navy technicians pictured below use an UUV to search for a helicopter that crashed into the ocean. There is a booming market for UUVs abroad among researchers, search and rescue authorities, port operators, oil & gas platform operators, and others. U.S. exporters of UUVs and other even more miniaturized equipment must be careful how they classify their product according to the Harmonized Schedule (HS) in order to avoid complications on their shipments abroad but also to ensure that export statistics accurately account for the development and growth of the marine technology industry. image: U.S. Navy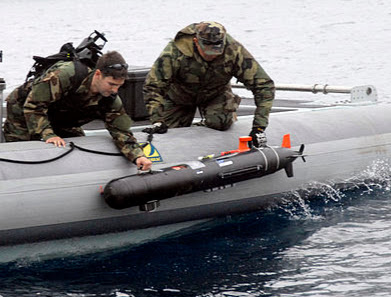 U.S. Exporters Learn How to Get Classification Right
As part of the MDCP cooperative agreement with TMA, Juan Catril, locally engaged staff in ITA's Commercial Service in Santiago, Chile, worked addressing a big challenge that marine technology industry faces. Experienced in market research, Juan studied how the marine technology industry is currently being classified in trade statistics. Because the industry is new he found some possible pitfalls that could trip up U.S. exporters. For example, the UUV pictured above looks a lot like a scaled down version of a submarine that might be crewed by over a hundred sailers. Toys and models are often scaled down version of much larger items. But the UUV pictured above is not a model of a crewed submarine.
This is just one misclassification example that Juan used in briefing nine U.S. firms during a the February 21, webinar. Participants now have a better understanding of HS classification, how it relates to other industry classification systems, which agencies track international trade flows, and how to make proper declarations for exports. In addition to making exporting easier, proper classification will allow the growning marine technology industry to be identified in trade statistics. This will help companies looking for financing and assist in the formulation of smart public policy.
Read more about TMA's MDCP project.

The International Trade Administration, U.S. Department of Commerce, manages this global trade site to provide access to ITA information on promoting trade and investment, strengthening the competitiveness of U.S. industry, and ensuring fair trade and compliance with trade laws and agreements. External links to other Internet sites should not be construed as an endorsement of the views or privacy policies contained therein. This site contains PDF documents. A PDF reader is available from Adobe Systems Incorporated.