MDCP
Click headers to expand:

Results & Highlights

Apply for Project Funding

Cooperator Project Mgt

ITA-MDCP Project Team

Cooperator Financial Mgt

Other MDCP Resources

More Resources
Market Development Cooperator Program
Long-Term Engagement and Education Effort Help Keep Gulf Markets Open
The cement seminar in Riyadh pictured below is just one of many ways that U.S. technical experts have been engaging with public and private sector officials in the Arabian Gulf. In 2014, ASTM International, along with the International Code Council (ICC) committed to a five-year MDCP project. As detailed below, patience and perserverence have paid off. Important markets are more open than ever to U.S. building materials manufacturers. photo: ASTM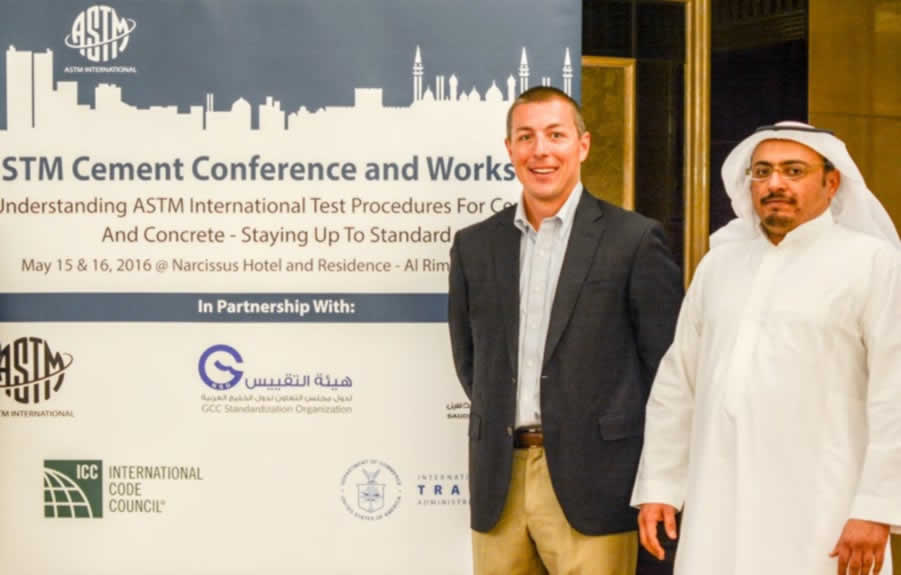 A country's building codes and standards may be written so as to exclude perfectly suitable building materials from being incorporated into a project. Through the five-year MDCP project, ASTM and ICC acted to ensure that codes and standards being adopted in the six member states of the Gulf Cooperation Council are market-relevant, science-based, and internationally recognized. Codes and standards that do not meet these critieria may force unnecessary and costly product redesigns or allow low-quality products to compete unfairly with higher-quality U.S. products.
Select MDCP project work from late 2014 to late 2019 and outcomes by ASTM and ICC are highlighted below. Increased understanding and uptake of U.S.-developed international standards and model building codes in the Gulf have real effect. As ASTM notes, they "ease market access for U.S. construction products and services and increase U.S. export competitiveness."
| Year | Activity | | Location |
| --- | --- | --- | --- |
| 2014 | MDCP project launches. | | Washington, D.C. |
| 2015 | ASTM and ICC present at workshop on standards and codes for sustainable construction. | | Doha |
| | Gulf delegates learn U.S. building standards and codes at GreenBuild and site visits. | | Maryland and Virginia |
| 2016 | Intensive training for Gulf attendiees in Net Zero and other U.S. standards at NIST, ASTM, and other venues. | | Pennsylvania and Maryland |
| | Gulf participants observe ICC code development process first hand. | | Chicago |
| | ASTM and ICC lead workshop on cement and other topics. | | Riyadh |
| | ICC signs accord to support Gulf Standardization Organization efforts to develop a unified Gulf Building Code. WIN-18445 | | Riyadh |
| 2017 | Intensive training participant is promoted to deputy director in Saudi Arabia's Construction & Building Materials Department. | | Riyadh |
| | ASTM joins US/UAE Business Council. | | Dubai |
| 2018 | ICC demonstrates code development procedures. | | Riyadh and Dubai |
| | ASTM board meets outside North America. | | Dubai |
| | ASTM leads training seminars. | | Dubai and Abu Dhabi |
| | Kingdom incorporates ICC-fostered codes in building code. WIN-23007 | | Riyadh |
| | Emirate considers ICC-fostered code. | | Abu Dhabi |
| 2019 | ICC to train Saudi building code officials. | | Riyadh |
| | New ASTM chapter engages UAE experts in standards. WIN-26804 | | Dubai |
| | MDCP project period ends. | | |
| | First ever ICC office to open outside the United States. WIN-25545 | | Dubai |
More information about ASTM's Market Development Cooperator Program (MDCP) project.
Read selected highlights of MDCP projects addressing trade barriers.

The International Trade Administration, U.S. Department of Commerce, manages this global trade site to provide access to ITA information on promoting trade and investment, strengthening the competitiveness of U.S. industry, and ensuring fair trade and compliance with trade laws and agreements. External links to other Internet sites should not be construed as an endorsement of the views or privacy policies contained therein. This site contains PDF documents. A PDF reader is available from Adobe Systems Incorporated.