MDCP
Click headers to expand:

Results & Highlights

Apply for Project Funding

Cooperator Project Mgt

ITA-MDCP Project Team

Cooperator Financial Mgt

Other MDCP Resources

More Resources
Market Development Cooperator Program
Not Quite Legal, Yet
The pick-up truck and recreation vehicle (RV) shown below are being prepared for a test-drive at the Ford Motor Nanjing Test Center (NTC). This is one of just a couple of places in China where a private vehicle towing an RV weighing more than 1,650 lbs is allowed. The pictured U.S.-made travel trailer is about three times as heavy as the current limit in China. A tow vehicle similar in capacity to the Ford pickup, pictured, is required for trailers of this weight class. Private vehicle owners are prohibited from towing most of the travel trailers that U.S. RV firms manufacture. So for now, these restrictions make exporting U.S. RV trailers to China unattractive for most applications. photo: Ford NTC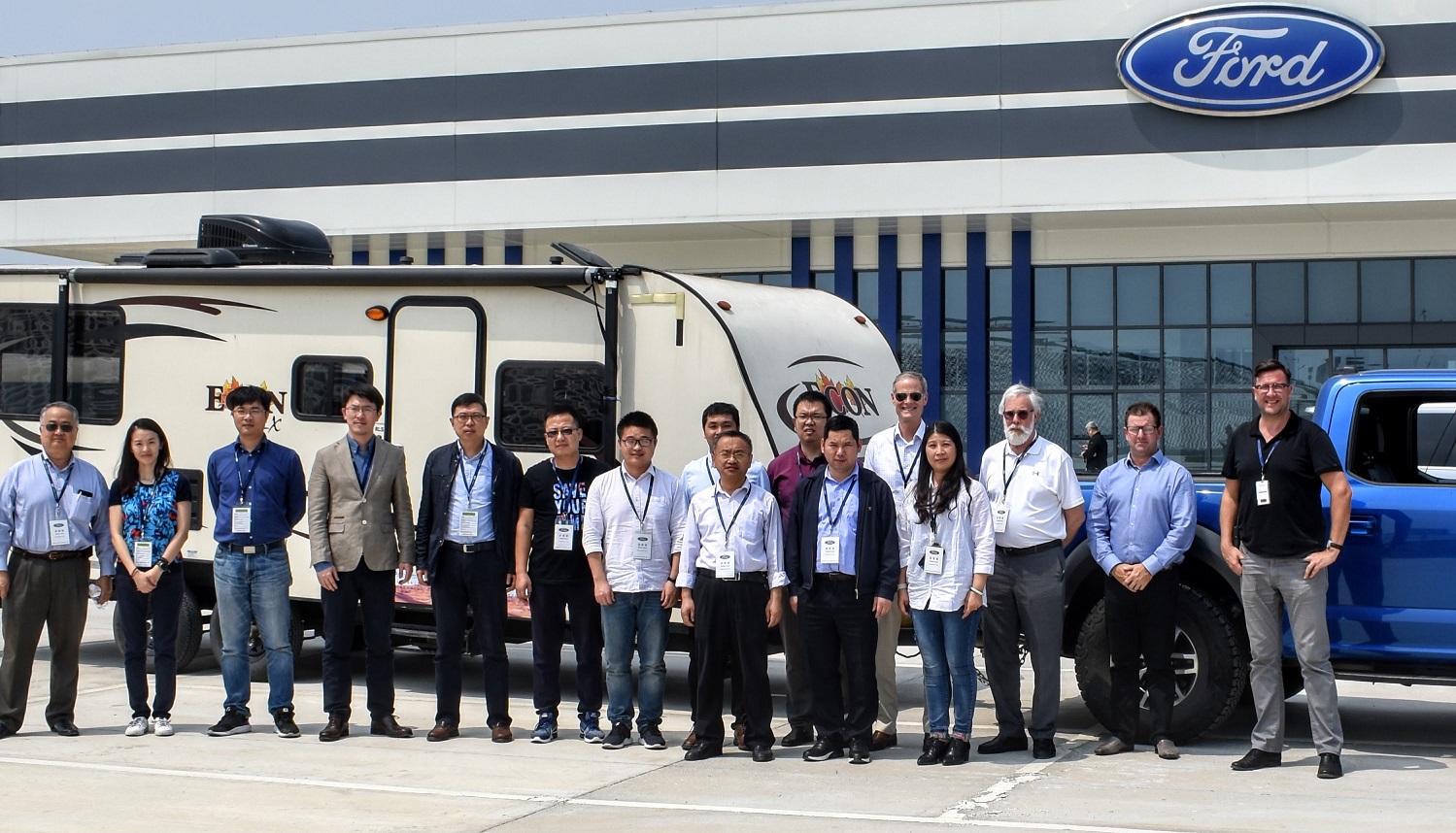 But changes are in the works. China is ramping up to accommodate and encourage RVing. China's interest is evidenced by plans to increase RV campgrounds from the 50 existing in 2012, to 2,000 by 2020. Currently, almost all of the trailers in the few existing campgrounds remain there permanently. Visitors rent RV nights like they would a hotel. In order to fill these campgrounds with "self-driving" tourists, the country's standards and safety regulations must be adapted and updated to allow for private citizens to tow and operate a broad range of RVs.
Towing Workshop
Edward Han, far left in the photo above, is the East Asia representative of the Recreation Vehicle Industry Association (RVIA). Next to him is Feng (Jessica) Tan from ITA's Beijing office of its Global Markets/Commercial Service. They were joined by other officials from RVIA, China's Ministry of Transportation, and Ford NTC on April 27, 2018, for the workshop on towing.
The test-drive was just one element in the Ford NTC workshop. RVIA's standards specialist Bruce Hopkins led a detailed presentation and discussion on towing technical considerations and standards. There was hands-on time time as well to help China officials to understand the purpose of various equipment and procedures so they can craft standards and regulations that will allow safe transport and operation of RVs on China's roadways.
For now, the restrictions on towing RVs constitute a barrier to trade. But RVIA saw the possiblities years ago and is working on a long-term vision. Hopefully, towing standards and regulations will change in time for hundreds of new RV campgrounds to accomodate an influx of new self-driving RV visitors.
After receiving an MDCP award in 2012,
RVIA received another award in 2015
.
Read selected highlights of MDCP projects addressing trade barriers.

The International Trade Administration, U.S. Department of Commerce, manages this global trade site to provide access to ITA information on promoting trade and investment, strengthening the competitiveness of U.S. industry, and ensuring fair trade and compliance with trade laws and agreements. External links to other Internet sites should not be construed as an endorsement of the views or privacy policies contained therein. This site contains PDF documents. A PDF reader is available from Adobe Systems Incorporated.