Top Markets Reports
Top Markets Series: Agricultural Equipment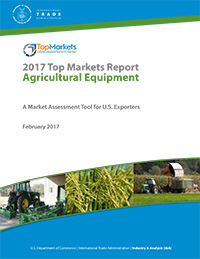 Click to download the full report
Despite a negative overall outlook for 2017-2018, opportunities exist for U.S. agricultural equipment exporters willing to pursue them. The Black Sea Region has emerged as a major exporter of wheat, fueling Russian and Ukrainian imports of U.S. machinery. Low interest rates and funding from Brussels enable farmers in several European Union countries to invest in equipment. Western Hemisphere markets including Mexico, Chile and Peru present opportunities for exporters of certain types of equipment.
Nevertheless, U.S. exports of agricultural equipment will continue to decline in 2017-18. Market conditions responsible for the decline—which is a worldwide phenomenon—are unlikely to change in the near to medium term. Low prices for widely-traded agricultural commodities are expected to continue through 2018 and beyond. Large inventories of late-model used equipment will continue to be a drag on the market, especially in North America. Weak local currencies and high interest rates in Brazil and South Africa will prevent recovery in these markets.
This report is part of the Top Markets Series. Each report ranks future export opportunities within a particular industry based on a sector-specific methodology.

The International Trade Administration, U.S. Department of Commerce, manages this global trade site to provide access to ITA information on promoting trade and investment, strengthening the competitiveness of U.S. industry, and ensuring fair trade and compliance with trade laws and agreements. External links to other Internet sites should not be construed as an endorsement of the views or privacy policies contained therein. This site contains PDF documents. A PDF reader is available from Adobe Systems Incorporated.