Top Markets Reports
Top Markets Series: Cold Supply Chain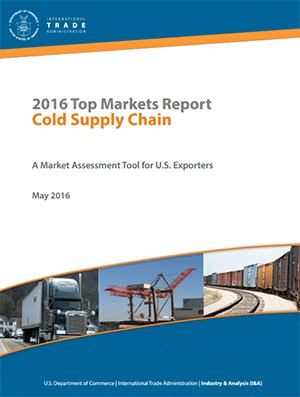 Click to download the full report
The 2016 Cold Chain Top Markets Report comes at a time when an increasing understanding of the global value chains that are the key drivers for the flow of trade in both goods and services is impacting the way that industries and government view trade in terms of investment and policy development. As a business function of distribution services, cold chain services are force multipliers that create a world of opportunities for related trade and exports of goods. Ultimately, the report finds that cold chains grow in support of distribution services operation, primarily in the retail and franchise sectors.
This year's report uses World Economic Forum research as well as industry insight to assess 20 international markets for cold chain expansion. The case studies section of the report covers 11 countries that collectively represent more than $450 billion out of more than $1.8 trillion in total sales by U.S. majority owned foreign affiliates in distribution services.
John Miller, I&A's Industry Specialist for Cold Chain and Distribution Services, served as the lead author for this report. Thank you to all cold chain industry representatives who have provided insight including: ITA's Strategic Partners of The Global Cold Chain Alliance, APICS, FedEx, UPS, and the International Air Transport Association.
This report is part of the Top Markets Series. Each report ranks future export opportunities within a particular industry based on a sector-specific methodology.

The International Trade Administration, U.S. Department of Commerce, manages this global trade site to provide access to ITA information on promoting trade and investment, strengthening the competitiveness of U.S. industry, and ensuring fair trade and compliance with trade laws and agreements. External links to other Internet sites should not be construed as an endorsement of the views or privacy policies contained therein. This site contains PDF documents. A PDF reader is available from Adobe Systems Incorporated.