Top Markets Reports
Top Markets Series: Cloud Computing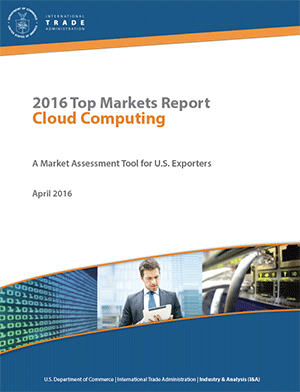 Click to download the full report
This report provides market assessment information for U.S. cloud computing companies interested in entering and/or expanding in international markets. To that extent, the report addresses issues specific to the cloud computing market place, as well as issues affecting the attractiveness of various global markets for U.S. cloud computing providers. It also provides a ranking of the top markets for cloud computing, focusing on enterprise adoption and market potential.
This ranking is based on export data from the U.S. Bureau of Economic Analysis (BEA) and from a wide variety of reports and statistics on topics such as policy and regulatory environments, Internet infrastructure, business adoption and several other factors. This, in turn, has been analyzed by trade specialists at the U.S. Department of Commerce in light of their existing knowledge, expertise and extensive research into the markets profiled and, in some cases, feedback from U.S. Department of Commerce Global Markets staff located in the countries profiled on this report.
The results are a subjective but well-reasoned ranking for top export markets, as well as nine country reports (Australia, Brazil, Canada, China, Germany, India, Japan, South Korea and the United Kingdom) that should be informative and instructive.
Jorge Pardo served as the lead author of this report, with Andrew Flavin and Michael Rose as co-authors and major contributors. They would like to thank Duncan Archibald, Alex Choi, Tracey Ford, Doris Groot, Erick Kish, Patricia Marega, Jane Shen, Richard Stanbridge and Sophie Xiao from the U.S. Commercial Service, Paulette Hernandez and Brian Larkin from the U.S. International Trade Administration and Jeff Bogen from the U.S. Bureau of Economic Analysis for their gracious assistance.
This report is part of the Top Markets Series. Each report ranks future export opportunities within a particular industry based on a sector-specific methodology.

The International Trade Administration, U.S. Department of Commerce, manages this global trade site to provide access to ITA information on promoting trade and investment, strengthening the competitiveness of U.S. industry, and ensuring fair trade and compliance with trade laws and agreements. External links to other Internet sites should not be construed as an endorsement of the views or privacy policies contained therein. This site contains PDF documents. A PDF reader is available from Adobe Systems Incorporated.