Top Markets Reports
Top Markets Series: Education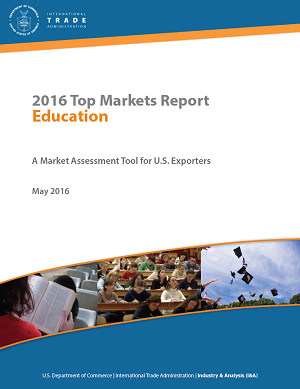 Click to download the full report
The U.S. hosted almost a million international students in 2015. That figure represents a 10 percent increase from the prior year. The list of countries sending the most students to the United States has been relatively stable during the past 10 years, and ITA does not anticipate significant changes to the list in the near future.
Specifically, China, India, and Korea have ranked as the top "sending" countries for the past 10 years while Canada, Taiwan, Mexico, and Japan have consistently ranked among the top 10 "sending" countries.
The 2016 Education Top Markets Report provides in-depth country case studies for many of the top "sending" countries, along with country-specific forecasts through 2020 for the number of foreign students studying in the United States. This report assesses global market opportunities for U.S. colleges and universities, providing guidance for U.S. institutions interested in the recruitment of international students.
John Siegmund and Barb Rawdon were the lead authors of this report, with assistance from Clara Ren. The authors would like to thank Christine A. Farrugia, Senior Research Officer at the Institute of International Education; Rachel H. Banks, Director, Public Policy at NAFSA: Association of International Educators; and William M. Fish, President of the Washington International Education Council, for their helpful comments on drafts of this report.
This report is part of the Top Markets Series. Each report ranks future export opportunities within a particular industry based on a sector-specific methodology.

The International Trade Administration, U.S. Department of Commerce, manages this global trade site to provide access to ITA information on promoting trade and investment, strengthening the competitiveness of U.S. industry, and ensuring fair trade and compliance with trade laws and agreements. External links to other Internet sites should not be construed as an endorsement of the views or privacy policies contained therein. This site contains PDF documents. A PDF reader is available from Adobe Systems Incorporated.