Top Markets Reports
Top Markets Series: Renewable Energy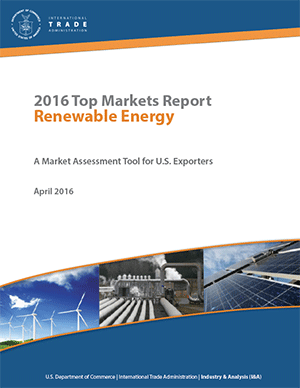 Click to download the full report
The renewable energy industry remains one of the most vibrant, fast-changing, and transformative sectors of the global economy. Technology improvements, cost declines, and the catalytic influence of new financing structures, have turned the sector into a driver of economic growth - both in the United States and around the world.
Global clean energy investment, including renewable energy, totaled more than $329 billion in 2015. Because the cost of most renewable energy technologies continued its downward trend, the world's investment supported an unprecedented deployment of new renewable energy projects despite the availability of extremely cheap fossil fuels.
This Top Markets Report provides analysis on key trends, areas of opportunity, and important challenges that exporters need to know in order to compete effectively in foreign markets. It offers projections for potential exports in the 2016-2017 time frame, as well as eight country case studies from a variety of geographic regions (Brazil, Canada, Chile, China, India, Mexico, Japan, and South Africa) with more in-depth information. The report, which builds on earlier versions published in 2014 and 2015, also includes subsector-specific projections.
Cora Dickson served as the lead author of this report. A special note of thanks goes to Lilian Lee, Kyle Deming, Evan Fowler, and Drew Bennett, whose thoughtful gathering of market intelligence and trade data facilitated the completion of the study. In addition, critical insights on all the markets mentioned in the report were provided by in-country Commercial Service energy sector specialists. This report serves as an update to the 2015 report.
This report is part of the Top Markets Series. Each report ranks future export opportunities within a particular industry based on a sector-specific methodology.

The International Trade Administration, U.S. Department of Commerce, manages this global trade site to provide access to ITA information on promoting trade and investment, strengthening the competitiveness of U.S. industry, and ensuring fair trade and compliance with trade laws and agreements. External links to other Internet sites should not be construed as an endorsement of the views or privacy policies contained therein. This site contains PDF documents. A PDF reader is available from Adobe Systems Incorporated.