Top Markets Reports
Top Markets Series: Aircraft Parts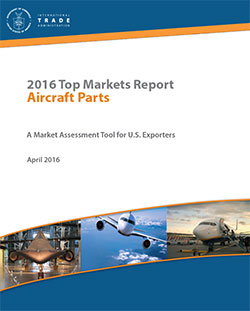 Click to download the full report
This report provides an update to the 2015 Aircraft Parts Top Markets Report issued by the International Trade Administration (ITA), U.S. Department of Commerce in May 2015. This update includes a revised ranking of the top markets based on more recent trade data, an analysis of recent changes that affect the international competitiveness of U.S. suppliers of aircraft parts, updates to five country case studies from the previous report (Canada, China, Germany, Saudi Arabia and Singapore) and the inclusion of two additional country case studies (Australia and Brazil).
U.S. aircraft parts figure prominently in U.S. competitiveness in global aerospace trade. In contrast to other aerospace sectors, job creation at small and medium enterprises can especially benefit from increased exports of aircraft parts. Top markets for future growth in U.S. aircraft parts exports are generally those that are leading exports markets overall for U.S. products (e.g., large European economies, Japan, China and Singapore).
This Top Markets Report provides commentary on changing market dynamics. Along with other resources, this report helps inform U.S. suppliers of aerospace products of what the U.S. Department of Commerce's International Trade Administration (ITA) considers to be leading markets for exports of U.S. aircraft parts.
The lead author of this report is Fred Elliott, an international trade specialist on the Aerospace Team in the U.S. Department of Commerce's International Trade Administration. Jonathan Alvear and Alexis Haakensen, also Aerospace Team staff members, collaborated in developing statistical methodology and prepared country case studies. Chris Blaha and Jeffrey Eversman, Office of Trade Negotiations and Analysis, provided trade data and statistical analysis. Kim Wells, Aerospace Team Leader, managed the team effort.
This report is part of the Top Markets Series. Each report ranks future export opportunities within a particular industry based on a sector-specific methodology.

The International Trade Administration, U.S. Department of Commerce, manages this global trade site to provide access to ITA information on promoting trade and investment, strengthening the competitiveness of U.S. industry, and ensuring fair trade and compliance with trade laws and agreements. External links to other Internet sites should not be construed as an endorsement of the views or privacy policies contained therein. This site contains PDF documents. A PDF reader is available from Adobe Systems Incorporated.