Top Markets Reports
Top Markets Series: Franchising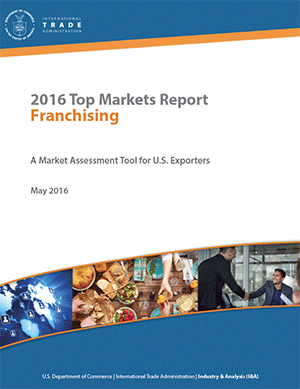 Click to download the full report
As a leading job creator in both the U.S. and abroad, franchising continues to prosper in markets all over the world, no matter their level of development or sophistication.
Defying the current anemic global economy, franchising remains a growth sector and a popular sector for U.S. exports.
The 2016 Franchising Top Markets Report focuses on the importance of franchising to the U.S. and international markets and identifies the important issues that are critical and unique to the sector, such as trade barriers, market challenges, market opportunities, multiplier effect and misinformation about franchising.
The report ranks export markets based on the following factors: government/regulations, labor force, infrastructure and demand. Twelve country case studies are included to provide more in-depth analysis.
Richard Boll served as the lead author for this report. Special thanks to the International Franchise Association for their assistance and industry feedback on this report. A note of thanks to U.S. Commercial Service offices all over the world for their input to this report.
This report is part of the Top Markets Series. Each report ranks future export opportunities within a particular industry based on a sector-specific methodology.

The International Trade Administration, U.S. Department of Commerce, manages this global trade site to provide access to ITA information on promoting trade and investment, strengthening the competitiveness of U.S. industry, and ensuring fair trade and compliance with trade laws and agreements. External links to other Internet sites should not be construed as an endorsement of the views or privacy policies contained therein. This site contains PDF documents. A PDF reader is available from Adobe Systems Incorporated.