Top Markets Reports
Top Markets Series: Industrial Automation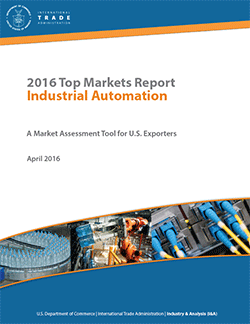 Click to download the full report
The United States is a major global producer of industrial automation equipment, broadly defined as the hardware and components used to automate systems in manufacturing or industrial settings. With nearly $10.5 billion worth of exported equipment in 2015, the United States remains a competitive top-tier supplier to global markets.
Despite a slight decrease overall from 2014 to 2015, the next two years will likely see increases in U.S. industrial automation exports. This is largely a result of the growing global market for automation equipment, for which the United States is a top-tier supplier. The industrial automation market is driven by the need to reduce operational costs and improve productivity. While the recession of 2008 has largely passed, the deep impression left by the global credit crunch will continue to drive companies to streamline processes and automate production. This in turn will drive demand for industrial automation products in the short term.
Andrew Moyseowicz served as the lead author of this report. A note of thanks goes to Padraic Sweeney, Forrest Nielsen, Kit Rudd and Scott Kennedy of the Office of Transportation and Machinery for their support. A special note of acknowledgement goes to Mario Vidana, Stefan Popescu, Volker Wirsdorf, Klaus Jonas, Yiu Kei Chan, and Luciana Escobar of the U.S. Foreign Commercial Service for their insightful observations.
This report is part of the Top Markets Series. Each report ranks future export opportunities within a particular industry based on a sector-specific methodology.

The International Trade Administration, U.S. Department of Commerce, manages this global trade site to provide access to ITA information on promoting trade and investment, strengthening the competitiveness of U.S. industry, and ensuring fair trade and compliance with trade laws and agreements. External links to other Internet sites should not be construed as an endorsement of the views or privacy policies contained therein. This site contains PDF documents. A PDF reader is available from Adobe Systems Incorporated.